The Office of Emergency Management instills a culture of preparedness while enhancing and improving the disaster resiliency of the University by mitigating against, preparing for, responding to, and recovering from emergencies.
Meet the Lert
No one knows the true origin of Kurt the Lert. Some say he's the result of an experiment gone wrong in Gottwald; some say he rose from Westhampton Lake. But what we do know is he seems to look like many of the different animals you might see around campus, all rolled into one. You can see some deer, fox, duck, and squirrel, and maybe a little superhero in there. But the most important thing is that he is alert. He's prepared for any hazard he may encounter — whether it's ice and snow or wind and tornadoes, Kurt the Lert is ready.
Are you alert?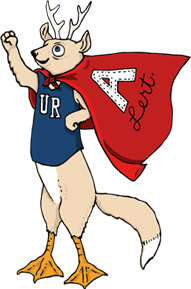 URAlert on Twitter
Tornado Drill beginning at 12:55 pm. Please seek shelter in posted locations or lowest level of nearby building. Thanks for participating.

RT @urichmond: Be Smart. Take Part. Prepare. #stormsafety #rvawx #prepareathon

http://t.co/LvAimLUXQh

@uralert

The results are in...We beat VCU in the National Preparedness Month Social Media Challenge. Way to be #SpiderReady! @urichmond

A lert visited VCU. No surprise he found out even in Ram country people are #SpiderReady! @urichmond @URichmondMag

http://t.co/mLVBTygwpP

Even though it is the last day of the SM challenge against VCU there is still time to spread the word! #SpiderReady

Is your name on the 2014 Atlantic storm list?

http://t.co/ViAPZwsRNh

Hurricane season ends Nov. 30. Be #SpiderReady! @urichmond

RT @imjoeboe: MT @uralert: Get a kit, make a plan, stay informed. @RCDeansOffice is #SpiderReady, too!

Get a kit, make a plan, stay informed. All of our schools are #SpiderReady @richmondas @UR_RobinsSchool @URLawSchool @JepsonSchool @urscs

RT @VDEM: For Nat'l Preparedness Month, enter to win a Red Cross preparedness kit by taking a selfie with #GetReadyVa #NatlPrep http://t.co…

RT @Readygov: A7: Severe Weather impacts every state. Know the risk in your area! Visit:

http://t.co/YnwmUw5Q6w

#PrepareChat http://t.co/Ev…

With rain on the way remember not to drive through flood waters. Turn around, don't drown! #SpiderReady @urichmond

http://t.co/7YNSUHxqUa

RT @smokey_bear: The #PrepareChat #PrepareAthon is going on right now. Learn more about what you can do to prepare for wildfires and other …

Seniors: You never know what tomorrow will bring…https://t.co/93e5FIncrN @RCDeansOffice @WesthamptonColl #SpiderReady

RT @ghonickel: Lorelei and I are #spiderReady with @urALert #AdventuresWithLorelei

http://t.co/dTDPcWnysH

RT @RCDeansOffice: Are you #SpiderReady? Gary, one of our Area Coordinators, and his 1 month old daughter are! @URAlert http://t.co/h8xraPf…

Join us on the Forum. @VirginiaDMV is here along with @URPolice @HenricoPolice, @VirginiaABC and @DRIVESMARTVA

Help us name the lert by submitting your suggestions here or on Facebook https://t.co/bYMGb9cnho #SpiderReady

Today is the day before. #SpiderReady

When things heat up…Make sure you're always prepared https://t.co/v9q0C7gNiR #SpiderReady
See more from uralert
Spotlight
Tornadoes can occur anywhere in the United States. To learn more about tornadoes and what you should do to protect yourself and your property download the How to Prepare for a Tornado guide.
Get hooked in the University of Richmond preparedness web by subscribing to the preparedness listserv.
Contact
Brittany Schaal
Director, Emergency Management
(804) 289-8855
bschaal@richmond.edu
Public Safety Department
UR Police
Safety Services & Risk Management
UR EMS