The Office of Emergency Management instills a culture of preparedness while enhancing and improving the disaster resiliency of the University by mitigating against, preparing for, responding to, and recovering from emergencies.
Meet the Lert
No one knows the true origin of Kurt the Lert. Some say he's the result of an experiment gone wrong in Gottwald; some say he rose from Westhampton Lake. But what we do know is he seems to look like many of the different animals you might see around campus, all rolled into one. You can see some deer, fox, duck, and squirrel, and maybe a little superhero in there. But the most important thing is that he is alert. He's prepared for any hazard he may encounter — whether it's ice and snow or wind and tornadoes, Kurt the Lert is ready.
Are you alert?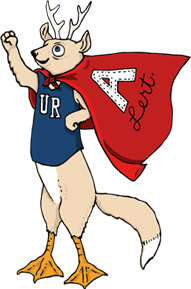 UR Public Safety on Facebook
Come by the Special Events Lot B-5 today from 11 a.m. to 3 p.m. and let the University of Richmond Police Department check your vehicle's fluid levels, tire pressure, belts, etc. We will top off all fluid levels absolutely free of charge. We will also treat you to free pizza and drinks. Take advantage of this free event before that long drive home for summer.
Stop by the Spider Ready table outside ETC today from 11:30 am to 1 pm for a chance to win a free t-shirt or basic preparedness kit.
A sweet start to National Telecommunicators Week for Communications Officer Steve and Supervisor Deb in recognition of all of our Communications Officers at the University of Richmond Police Department.
Help Richmond Animal Care and Control get $1 per Facebook like http://wtvr.com/2017/04/10/how-your-thumbs-up-can-earn-cash-for-richmond-animal-care-and-control-1/
Hello everyone, it's that time of year again to support Virginia Special Olympics. For a small donation of $20.00 you will receive the T-shirt below. This is a wonderful cause, the Olympians are counting on you. If you would like to help please contact Officer Randy Baran at rbaran@richmond.edu.
With the potential for severe storms Thursday morning, Kurt the Lert reminds you what to do during a tornado.
Come out and support us!!
Officers participating in Pleasure Fest 2017
UR Alert: Statewide Tornado Drill. This is an active drill. Please seek shelter at posted locations or in an interior location on the lowest level of the building. Avoid windows, glass walls, and exterior doorways. During an actual threat, the message would include the expiration time of the tornado warning and the outdoor warning system siren would remain continuous until the danger had passed. This is only a drill. Thank you for participating.
Reminder: Statewide Tornado Warning Drill this morning at 9:45.
A designated friend. A ride-sharing service. The trusty, dependable taxi. A public bus, or train, or tram, or ferry. Even a cycle rickshaw. Any of these would be better than getting behind the wheel after a night of drinking.
Excellence!!
Our Polar Plungers of the day.
police.richmond.edu/forms/rad-sign-up.html
Please help support our URPD team BlueChill in this years Polar Plunge by clicking the link provided. https://secure.e2rm.com/registrant/TeamFundraisingPage.aspx?teamID=729836&langPref=en-CA&Referrer=%26Referrer%3dhttp%253a%252f%252fpolarplunge.com%252f#&panel1-2"
See more from URPublicSafety
URAlert on Twitter
UR ALERT: Statewide Tornado Drill. Please seek shelter in posted locations or lowest level of nearby building. This is only a drill.

UR ALERT: This is a test. During an actual emergency, information about the incident as well as actions to be taken would be included.

Emergency communications phone lines are back up and running on campus.

Due to power outage phone lines on campus are down. Dial 911 for emergencies only until further notice.

Tornado Drill beginning at 9:45 am. Please seek shelter in posted locations or lowest level of nearby building. Thanks for participating.

UR ALERT: This is a test. During an actual emergency, information about the incident as well as actions to be taken would be included.

Tornado Drill beginning at 12:55 pm. Please seek shelter in posted locations or lowest level of nearby building. Thanks for participating.

RT @urichmond: Be Smart. Take Part. Prepare. #stormsafety #rvawx #prepareathon

http://t.co/LvAimLUXQh

@uralert

The results are in...We beat VCU in the National Preparedness Month Social Media Challenge. Way to be #SpiderReady! @urichmond

A lert visited VCU. No surprise he found out even in Ram country people are #SpiderReady! @urichmond @URichmondMag

http://t.co/mLVBTygwpP

Even though it is the last day of the SM challenge against VCU there is still time to spread the word! #SpiderReady

Is your name on the 2014 Atlantic storm list?

http://t.co/ViAPZwsRNh

Hurricane season ends Nov. 30. Be #SpiderReady! @urichmond

RT @imjoeboe: MT @uralert: Get a kit, make a plan, stay informed. @RCDeansOffice is #SpiderReady, too!

Get a kit, make a plan, stay informed. All of our schools are #SpiderReady @richmondas @UR_RobinsSchool @URLawSchool @JepsonSchool @urscs

RT @VDEM: For Nat'l Preparedness Month, enter to win a Red Cross preparedness kit by taking a selfie with #GetReadyVa #NatlPrep http://t.co…

RT @Readygov: A7: Severe Weather impacts every state. Know the risk in your area! Visit:

http://t.co/YnwmUw5Q6w

#PrepareChat http://t.co/Ev…

With rain on the way remember not to drive through flood waters. Turn around, don't drown! #SpiderReady @urichmond

http://t.co/7YNSUHxqUa

RT @smokey_bear: The #PrepareChat #PrepareAthon is going on right now. Learn more about what you can do to prepare for wildfires and other …
See more from uralert