The Office of Emergency Management instills a culture of preparedness while enhancing and improving the disaster resiliency of the University by mitigating against, preparing for, responding to, and recovering from emergencies.
Meet the Lert
No one knows the true origin of Kurt the Lert. Some say he's the result of an experiment gone wrong in Gottwald; some say he rose from Westhampton Lake. But what we do know is he seems to look like many of the different animals you might see around campus, all rolled into one. You can see some deer, fox, duck, and squirrel, and maybe a little superhero in there. But the most important thing is that he is alert. He's prepared for any hazard he may encounter — whether it's ice and snow or wind and tornadoes, Kurt the Lert is ready.
Are you alert?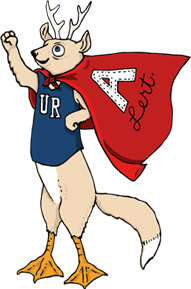 UR Public Safety on Facebook
RVA Plunge Winter Fest, Feb. 27, 2016, at a new location, The Shops at Willow Lawn.
Join Team UR Blue Chill on February 27th at the Willow Lawn Shopping Center for the Virginia Special Olympics RVA Polar Plunge This February 27th, it's swimsuit season at Willow Lawn shopping center. Our team is helping thousands of Special Olympics Virginia athletes go for the GOLD by participating in the RVA Plunge Winter Fest 2016. You can support our brave efforts by making a secure donation through this site. http://polarplunge.com/View/Page/Richmond
Women's Self Defense Class coming: When: Tuesday, February 2, 2016 (6-7:30pm) Where: Keller Hall Reception Room Open Session, but you will need to sign-up here http://police.richmond.edu/forms/self-defense-sign-up.html
The Virginia Department of Transportation (VDOT) encourages motorists to avoid unnecessary travel. If travel is a must, drivers should exercise EXTREME CAUTION while on roads as low overnight temperatures likely will result in icy pavement conditions during the early morning hours. Pavement may be especially slick on bridges, overpasses and ramps, which freeze first, and roads with lower traffic volumes and shaded spots. Drivers also should be alert for pedestrians walking in roads, especially in more urban areas where most sidewalks are blocked with deep piles of snow.
Our student workers stepping up and working to help out the Police Department this weekend!
**UPDATE** Mr. Kazenga has been located and is safe. Oliver Muhoza Kazenga last seen in Houston Texas 01/10/2016, Black Male, Date of Birth 11/21/1985 height 6'1". If you have any information please call 713-274-9360
Looking to get an update on the closing of the University? Call the Emergency Hotline at 804-289-8760
While we don't think #snowpocalypse is eminent, you should stay tuned to alert.richmond.edu for emergency updates. Take a few minutes to sign up for UR Alerts to be sure you receive directly any emergency messages. #uralert University of Richmond Department of Public Safety (URDPS)
When you are ready to drive after the storm remember to: 1. Keep your vehicles fully fueled. 2. Protect your windshield by only using a plastic ice scraper. Don't pour hot water on your glass; take time to gradually warm and defrost your windshield. 4. Check to make sure your windshield washer fluid reservoir is full as you may use more than normal to keep your windshield clear while driving. 5. Tires lose traction due to moisture from snow and ice and require more braking distance. Keep a safe distance from other vehicles and give yourself more time to stop safely. If you need assistance while on campus at any time please contact the URPD at 289-8715
With snow on the way make sure you are ready. Visit http://preparedness.richmond.edu/hazards/index.html for more information on what to do before, during, and after the winter weather.
Stalking A pattern (2 or more) of repeated or unwanted attention, harassment, contact, or any other course of conduct (cyber stalking) directed at a specific person that would cause a reasonable person to feel fear.
Are you prepared for the cold days ahead? Resolve to be ready in 2016.
As you leave for Winter Break...REMEMBER to lock your doors!
See more from URPublicSafety
URAlert on Twitter
UR ALERT: This is a test. During an actual emergency, information about the incident as well as actions to be taken would be included.

Tornado Drill beginning at 12:55 pm. Please seek shelter in posted locations or lowest level of nearby building. Thanks for participating.

RT @urichmond: Be Smart. Take Part. Prepare. #stormsafety #rvawx #prepareathon

http://t.co/LvAimLUXQh

@uralert

The results are in...We beat VCU in the National Preparedness Month Social Media Challenge. Way to be #SpiderReady! @urichmond

A lert visited VCU. No surprise he found out even in Ram country people are #SpiderReady! @urichmond @URichmondMag

http://t.co/mLVBTygwpP

Even though it is the last day of the SM challenge against VCU there is still time to spread the word! #SpiderReady

Is your name on the 2014 Atlantic storm list?

http://t.co/ViAPZwsRNh

Hurricane season ends Nov. 30. Be #SpiderReady! @urichmond

RT @imjoeboe: MT @uralert: Get a kit, make a plan, stay informed. @RCDeansOffice is #SpiderReady, too!

Get a kit, make a plan, stay informed. All of our schools are #SpiderReady @richmondas @UR_RobinsSchool @URLawSchool @JepsonSchool @urscs

RT @VDEM: For Nat'l Preparedness Month, enter to win a Red Cross preparedness kit by taking a selfie with #GetReadyVa #NatlPrep http://t.co…

RT @Readygov: A7: Severe Weather impacts every state. Know the risk in your area! Visit:

http://t.co/YnwmUw5Q6w

#PrepareChat http://t.co/Ev…

With rain on the way remember not to drive through flood waters. Turn around, don't drown! #SpiderReady @urichmond

http://t.co/7YNSUHxqUa

RT @smokey_bear: The #PrepareChat #PrepareAthon is going on right now. Learn more about what you can do to prepare for wildfires and other …

Seniors: You never know what tomorrow will bring…https://t.co/93e5FIncrN @RCDeansOffice @WesthamptonColl #SpiderReady

RT @ghonickel: Lorelei and I are #spiderReady with @urALert #AdventuresWithLorelei

http://t.co/dTDPcWnysH

RT @RCDeansOffice: Are you #SpiderReady? Gary, one of our Area Coordinators, and his 1 month old daughter are! @URAlert http://t.co/h8xraPf…

Join us on the Forum. @VirginiaDMV is here along with @URPolice @HenricoPolice, @VirginiaABC and @DRIVESMARTVA

Help us name the lert by submitting your suggestions here or on Facebook https://t.co/bYMGb9cnho #SpiderReady

Today is the day before. #SpiderReady
See more from uralert
Spotlight
Get hooked in the University of Richmond preparedness web by subscribing to the preparedness listserv.
Contact
Brittany Schaal
Director, Emergency Management
(804) 289-8855
bschaal@richmond.edu
Public Safety Department
UR Police
Safety Services & Risk Management
UR EMS