The Office of Emergency Management instills a culture of preparedness while enhancing and improving the disaster resiliency of the University by mitigating against, preparing for, responding to, and recovering from emergencies.
Meet the Lert
No one knows the true origin of Kurt the Lert. Some say he's the result of an experiment gone wrong in Gottwald; some say he rose from Westhampton Lake. But what we do know is he seems to look like many of the different animals you might see around campus, all rolled into one. You can see some deer, fox, duck, and squirrel, and maybe a little superhero in there. But the most important thing is that he is alert. He's prepared for any hazard he may encounter — whether it's ice and snow or wind and tornadoes, Kurt the Lert is ready.
Are you alert?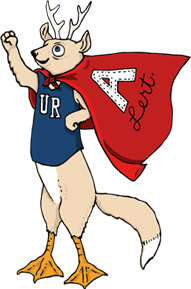 UR Public Safety on Facebook
If you are heading out to the Virginia State Fair make sure to stop by and meet with Sgt. Baran and Ofc. Johnson!
These are great tips to prevent car break-ins Lock Your Doors A majority of car break-ins and thefts are from unlocked cars. Even if you are parked in front of your house, in your driveway or inside your garage, lock your doors. Criminals like to walk down the street and see if a car is unlocked, if it is they open the door and take whatever is visible and move on to the next target. However, if the door is locked, they are more likely to move on. Secure Your Vehicle Roll your car windows up all the way and engage the car alarm, but do not depend on it as the only way to deter a thief. A car thief can break into your car and be out in about 30 seconds, fast enough that an alarm doesn't scare most of them away. Keep Your Vehicle Tidy Thieves like to window shop! Avoid leaving anything visible in the car. Almost any item that's visible from the outside - even if you think it is worthless - could be seen as valuable to a thief. Your spare change, sunglasses, even an empty bag (a thief may think there is something inside the bag) could be valuable in the mind of a thief. Conceal All Proof Stow your electronics and accessories well out of sight, or just take it along with you. The proof alone might be enough to pique the interest of thieves, including items such as power cords, adapters, and GPS windshield suction-cup mounts. If you remove the suction cup, make sure to wipe the ring off the windshield; it's a dead giveaway that you own a GPS. Stash Before You Park Get in the habit of putting items you want hidden in the trunk of your car before you arrive at your destination. Thieves will linger in busy parking lots looking for you to stash your valuable items. Source: http://www.parkerpolice.org/1726/Help-Prevent-Car-Break-ins
"On Tuesday, our members and I had the absolute pleasure, and I mean that sincerely, of taking a self-defense class with Officer Witten, Lieutenant Johnson and Sergeant Blizzard. My experiences with the police department, both in setting up the class and participating in the class, were outstanding. The class itself is very informative, easy to understand and enjoyable. After the class, several of our members told me they felt more empowered and confident. Some of the women have even looked up kick boxing classes to take because they enjoyed the physical aspects of the class so much. Most importantly, I feel confident I could defend myself against an attacker." -Kate Miceli The Community Chair for Richmond Women's Law
Natalia Green Director of Parking and Transportation receives an award submitted by GRTC from the Association of Commuter Transportation – Chesapeake Chapter for her efforts guiding UR Transportation
On September 27, at 4:30 p.m., the University of Richmond Police Department will host an open forum in the Whitehurst Living Room. We invite all faculty, staff, and students to visit with a representative of the police department to socialize, ask questions, and present your concerns with no pre-set agenda. As an added bonus, we'll have free cookies available for those who attend! Please come join us, we look forward to hearing your concerns and getting to know you better.
Thank you to Lt. Alfred Johnson and Officer Dave Johnson for attending a commemorative service at Bethlehem Lutheran Church on Sunday, September 11. Also in the photo are two VCU police officers that would good enough to give their time by attending the service.
Football Games Parking lots B1- B7, R18 - R23 will be closed to all vehicles starting at 2 a.m. This means that any vehicle found parked in the parking lots off Boatwright or Campus Drive after 2 a.m. Saturday morning will be towed. Faculty/staff vehicles or vehicles not displaying a University of Richmond permit will be towed off campus. This regulation will be strictly enforced. Parking lots B1 - B7 will reopen at 9 a.m. for vehicles with reserved parking passes. Faculty/staff members without an official Athletic reserved parking pass must park in general parking areas inside the Main or Westhampton gate.
Chief Dave McCoy gives a shout out to Jason the Manager of WAWA located at 7316 Forest Hill Avenue and URPD for supporting Special Olympics in Virginia. Stop by and visit Sergeant Randy Baran and student auxiliary officer Smaragha Spyrou as they raise funds with our cover the cruiser program! And you can also purchase a 2016 Harley-Davidson Motorcycle "Street Glide Special" raffle ticket to be given away on September 24, 2016. Only a few hours left to come over gas up and donate to Special Olympics!
Remember, buzzed driving is drunk driving.
The Public Safety Auxiliary would like to honor and thank UR Security Officer James Rich for his 18 years of service with the University of Richmond Department of Public Safety (URDPS) and congratulate him on his well deserved retirement. We will miss seeing Jimmy around and we all are losing out on a great team player and all around great person! We'll miss you and hope you enjoy your well deserved retirement.Thanks Jimmy!!
Laws and Safety Tips The laws regulating bicycling on Virginia's public highways define the rights and duties of bicyclists as well as the motorists with whom they share the roadway. Bicyclists and motorists basically have the same rights and duties, and the laws governing traffic regulation apply equally to both. The following information is intended to help bicyclists understand the laws that apply to the operation of bicycles in Virginia.
Remember: Drive Sober Or Get Pulled Over
DMV2Go University of Richmond Tuesday September 06, 2016 9 a.m. to 4 p.m. https://www.dmv.virginia.gov/general/#dmv_2go.asp
We encourage all students, faculty and staff to submit an electronic inventory form of valuable items stored in residence halls or offices. These items may include personal and University-owned computers, scanners, printers, stereo equipment, televisions, etc. Please keep a copy of the inventory list in your files. University Police will also keep this information on file, but you should be able to produce a copy of your inventory form in case of theft. Please submit as many copies of the form as needed. If have any questions about registration, contact Officer Aubrey Blizzard at 289-8715 or by email at ablizzar@richmond.edu.
See more from URPublicSafety
URAlert on Twitter
Emergency communications phone lines are back up and running on campus.

Due to power outage phone lines on campus are down. Dial 911 for emergencies only until further notice.

Tornado Drill beginning at 9:45 am. Please seek shelter in posted locations or lowest level of nearby building. Thanks for participating.

UR ALERT: This is a test. During an actual emergency, information about the incident as well as actions to be taken would be included.

Tornado Drill beginning at 12:55 pm. Please seek shelter in posted locations or lowest level of nearby building. Thanks for participating.

RT @urichmond: Be Smart. Take Part. Prepare. #stormsafety #rvawx #prepareathon

http://t.co/LvAimLUXQh

@uralert

The results are in...We beat VCU in the National Preparedness Month Social Media Challenge. Way to be #SpiderReady! @urichmond

A lert visited VCU. No surprise he found out even in Ram country people are #SpiderReady! @urichmond @URichmondMag

http://t.co/mLVBTygwpP

Even though it is the last day of the SM challenge against VCU there is still time to spread the word! #SpiderReady

Is your name on the 2014 Atlantic storm list?

http://t.co/ViAPZwsRNh

Hurricane season ends Nov. 30. Be #SpiderReady! @urichmond

RT @imjoeboe: MT @uralert: Get a kit, make a plan, stay informed. @RCDeansOffice is #SpiderReady, too!

Get a kit, make a plan, stay informed. All of our schools are #SpiderReady @richmondas @UR_RobinsSchool @URLawSchool @JepsonSchool @urscs

RT @VDEM: For Nat'l Preparedness Month, enter to win a Red Cross preparedness kit by taking a selfie with #GetReadyVa #NatlPrep http://t.co…

RT @Readygov: A7: Severe Weather impacts every state. Know the risk in your area! Visit:

http://t.co/YnwmUw5Q6w

#PrepareChat http://t.co/Ev…

With rain on the way remember not to drive through flood waters. Turn around, don't drown! #SpiderReady @urichmond

http://t.co/7YNSUHxqUa

RT @smokey_bear: The #PrepareChat #PrepareAthon is going on right now. Learn more about what you can do to prepare for wildfires and other …

Seniors: You never know what tomorrow will bring…https://t.co/93e5FIncrN @RCDeansOffice @WesthamptonColl #SpiderReady

RT @ghonickel: Lorelei and I are #spiderReady with @urALert #AdventuresWithLorelei

http://t.co/dTDPcWnysH
See more from uralert
Spotlight
Get hooked in the University of Richmond preparedness web by subscribing to the preparedness listserv.
Contact
Brittany Schaal
Director, Emergency Management
(804) 289-8855
bschaal@richmond.edu
Public Safety Department
UR Police
Safety Services & Risk Management
UR EMS